If there's one dish that I make most often for family and friends, it's vegetable lasagna. It's probably the first big dinner that I ever learned to make. Even way back in college, when I would make a meal for a group, lasagna would be the main event. Nowadays, I love it as a Sunday Supper because I can put that day's farmers market haul to good use. Not only is it easy, foolproof, and fun to make, but who doesn't love to share stories at the table around red sauce and pasta?! So why the heck did it take me this long to get a great go-to vegetable lasagna on this site? I'm not sure, but here it is and we're obsessed with it and all of it's roasted vegetable-y, saucy, goodness.
Of course, this version is much improved from my college days. For starters, I hadn't yet discovered my love of leeks or fennel, and I didn't appreciate how much more flavorful lasagna would be with roasted, caramelized, vegetables. (Pictured: creamy tofu-basil ricotta – it's so yummy that no one will know that they're eating tofu – promise!)
We're partnering with Bertolli® on this post, because – the secret's out – I never make my own tomato sauce when making lasagna! There's no time for that, especially when I'm having dinner guests :). To save a sauce-making step in this recipe, I used Bertolli® Organic Fire Roasted Garlic Marinara in this recipe and it worked out perfectly. It's organic and non-GMO, plus it has a delicious blend of roasted garlic, herbs, spices, and onion, which goes so well with the roasted leeks and red onion in this recipe.
The wonderful thing about roasting vegetables is that they cook down and much of the water gets released, which means that a LOT of vegetables can fit into this lasagna. I started with over 5 cups of chopped vegetables, and sprinkled in some chopped kale for good measure.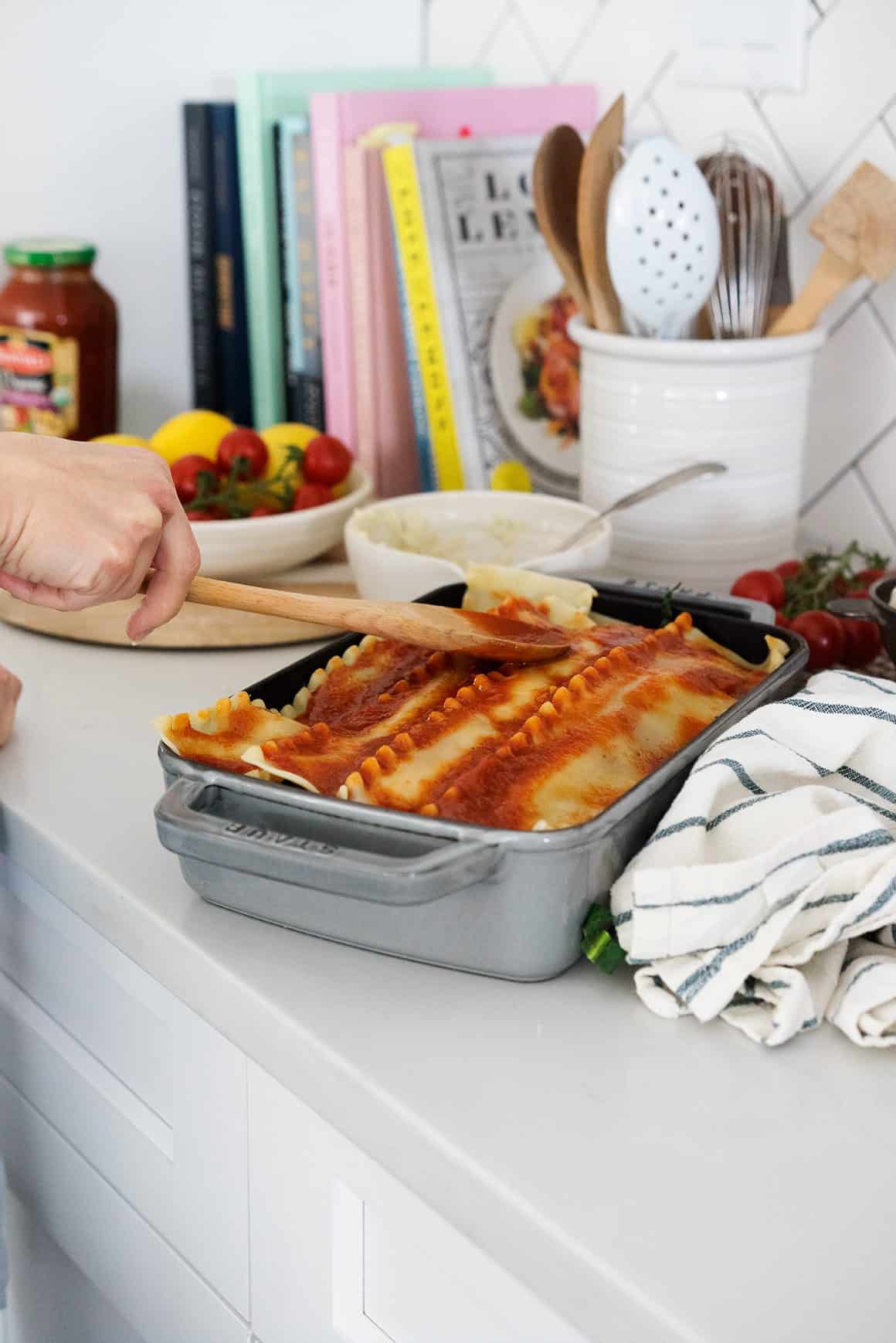 So saucy! ❤️
Top it all with cheese, bake, (let it sit for at least 20 minutes to set) and serve this great Sunday Supper (on any day of the week) to your friends and family!
Read more at: https://www.loveandlemons.com/roasted-vegetable-lasagna/
Entrepreneur. Travelaholic. Troublemaker. Tv lover. Evil food fan. Web scholar. Friend of animals everywhere.